Happy Friday to each of you lovelies!! Let's jump right into today's 5 on Friday
link up with April, Christina, Darci and Natasha, shall we?!?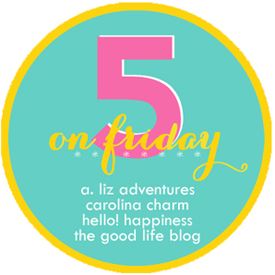 ONE:
I'm so looking forward to driving home to see my parents and celebrate Easter with them in the church that I was baptized, confirmed and married in! And I'm well prepared and won't be caught off guard when Pastor Joel says "He is Risen!" to our congregation..."He is Risen Indeed!"
TWO:
Confession: I have F O U R slow cookers. Yes, four. I have one mini, one standard, one that has three separate sized crocks and one programmable 6.5 quart. And I don't just use them in the Fall and Winter either!! Mine get just as much use in the Spring and Summer because it allows us to have supper ready to go when the weather is nice and we'd rather be outside enjoying it! This week I made
Slow Cooker Chicken Chile Verde
and it was bangin'!! Do yourself a favor and make her homemade tomatillo salsa verde, don't just buy a jar, it's that good!
THREE:
I have a bread starter in my refrigerator that I've kept alive for over two years. Since cutting out most of the grain in my diet I don't do much more than feed it any more though. Once or twice a month I'll make a batch of cinnamon rolls, leave a few for Matt and then give the rest away. While perusing Pinterest I did find this recipe and may let myself have just one...
FOUR:
Five of my good friends and I booked a cabin in southern Illinois for a girls weekend this summer. Coincidentally, it's the weekend before my birthday! Friends+Wine+Tasty Treats=One Happy Gal
FIVE:
What's your favorite Easter candy? I eluded to mine in my post about
what I hoped would be in my Easter Basket
. Reese's Eggs and Cadbury Mini Eggs! I
don't
do the Cadbury Creme Eggs, but it's a good thing for my waistline that those Mini Eggs only come out once a year!!!
I hope each of you have a wonderful weekend that's full of sunshine, family, some candy and a little wine to keep you sane! Happy Easter!